4.0
Oxford Dictionary of English is the desktop version of this popular English language dictionary. Oxford Dictionary of English incorporates the newest words

The basic reference work by Oxford University
One of the English reference books par excellence is the dictionary created by Oxford University. It's constantly updated and introduces new words into our language.
An essential reference book.
In the desktop version of this Oxford Dictionary of English the user will find the latest updates to the English language. New words are continuously added, being very easy to use thanks to its simple interface.
It integrates perfectly with our activity on our computer, being able to make searches compatible with our work by means of the search box or keyboard shortcuts.
Main features
Instant definition of terms.
Direct links to Wikipedia.
Shift between related terms.
Search history.
Keyboard shortcuts.
Get hold of one of the key reference tools in terms of sourcebooks in English language.
Requirements and additional information:
This trial version can be used for 10 days.
Antony Peel at Google +
Images Oxford Dictionary of English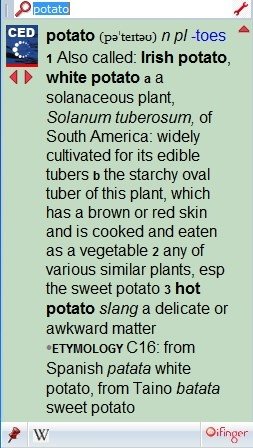 Videos featuring Oxford Dictionary of English

The most important English dictionary